As a small business owner looking to expand their marketing efforts online, you may be wondering how effective your marketing dollars will be. Perhaps you work with a digital marketing agency who provided you with paid search projections. How did they arrive at these numbers? Could you replicate them yourself?
It is possible to forecast paid search projections on your own and all you'll need to begin is a Google account. With a Google account, you can estimate success in Google Ads within your own geographic region. Your digital advertising plan might not use Google Ads exclusively, but they should constitute a majority of your digital marketing budget. Google does, in fact, receive a whopping 93.37% of all search queries conducted across all search engines. Here's how to create projections with the Google Ads Keyword Planner.
Log into Google Ads and Navigate to the Keyword Planner
To begin forecasting within Google Ads, you first need a Google Ads Account. Navigate to the Google Ads login page and sign in with your Google credentials. Then, select the account you'll be forecasting. If you don't have a Google Ads Account yet, you'll need to create one.
After logging into the account we're working with, navigate to the Keyword Planner. This is found in the Tools and Settings tab underneath the Planning heading.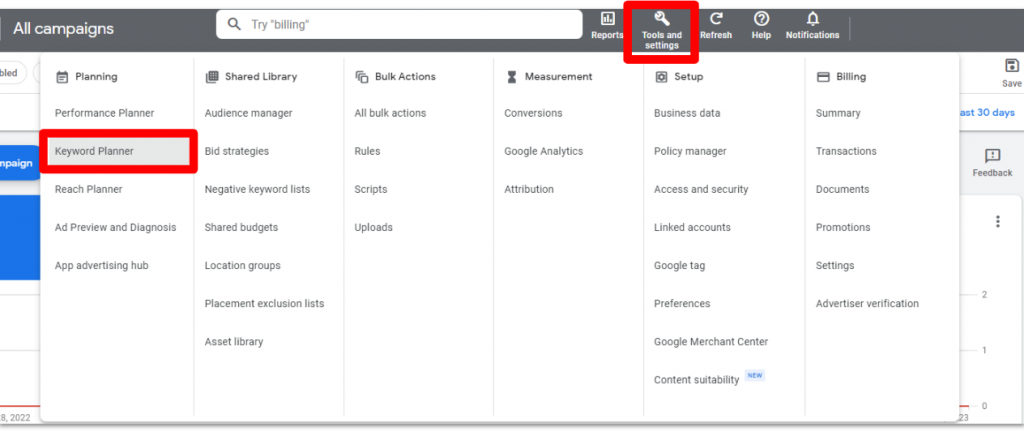 Select Your Planning Option
Within the Keyword Planner, you are presented with three options. "Discover new keywords" and "Get search volumes and forecasts" are the options used for brand new campaigns. "Organize keywords into ad groups" is the option for expanding existing campaigns, and we won't be looking at this option today.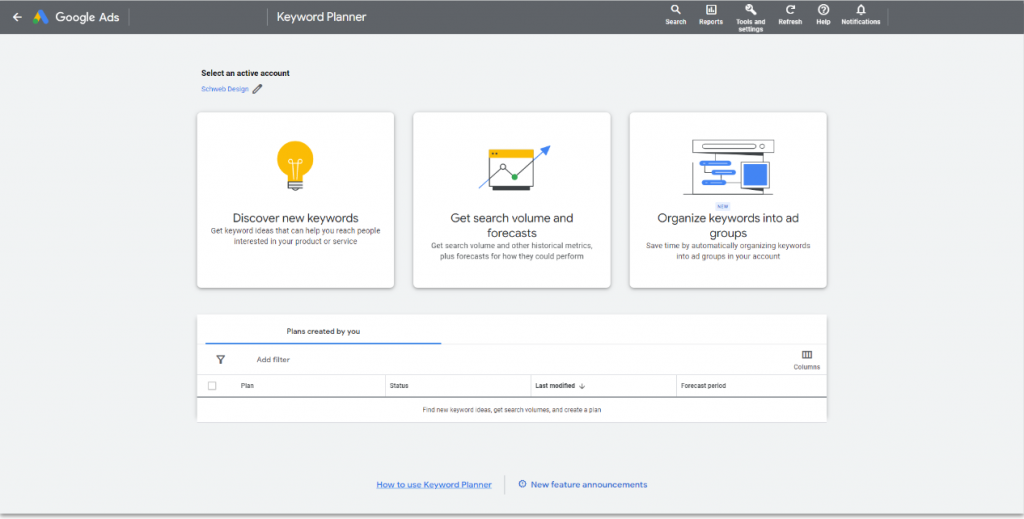 "Discover new keywords" is used to discover new keywords in two ways, adding primary keywords and looking for synonyms or letting Google crawl your website for potential keywords.
"Get search volumes and forecasts" is used when you already have a keyword list. You can build a keyword list leveraging a variety of 3rd party sources, like SEMrush and bring those into Google.
Discover New Keywords
After entering primary keywords or your website, click "Get results" to see keyword suggestions. Review the keyword suggestions, checking the boxes for the most relevant and highly-searched terms. To save those keywords, click "Add keywords to create plan." You can continue to add keywords to the plan until you are satisfied.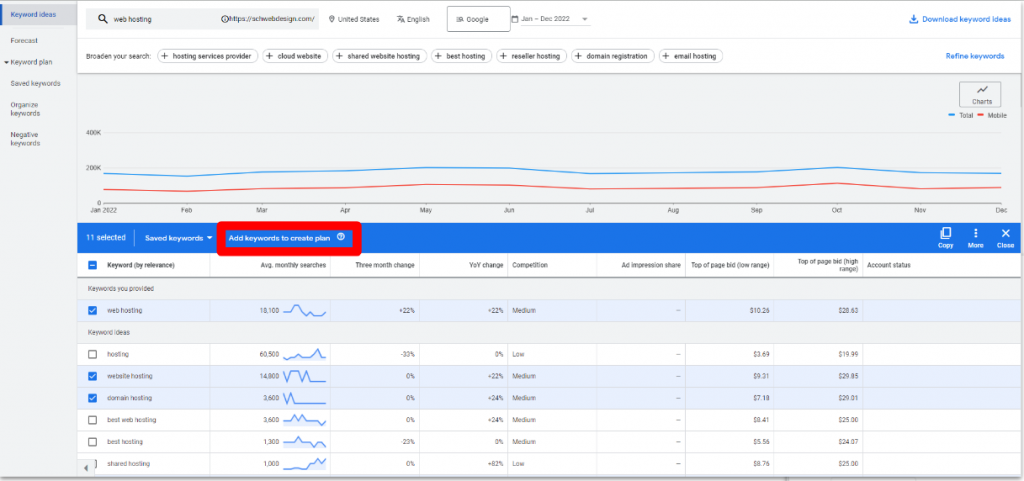 Get Search Volumes and Forecasts
This option will pop up a prompt asking for your keyword list. This can be copied and pasted from your list or imported from a .csv file. Once you have entered all of your keywords, click "Get started" to upload them.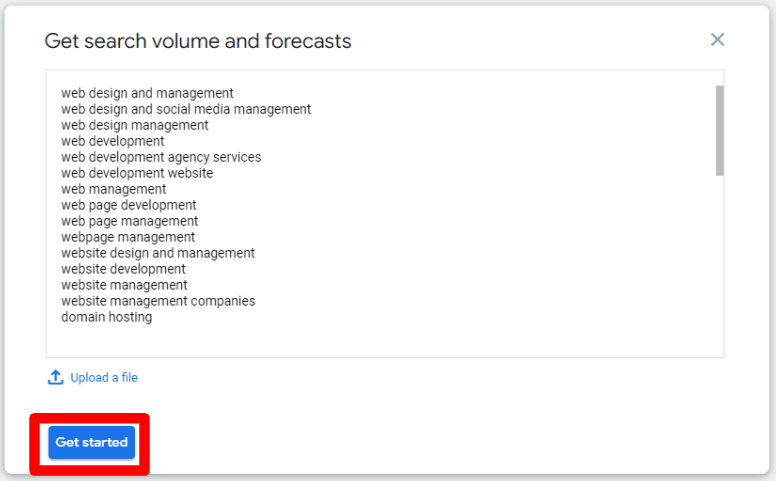 Forecasting Your Keyword Plan
To generate your projections, navigate to the "Forecast" tab and select "All saved keywords." In the forecast screen, you'll see projections over the next month at a daily budget recommended by Google. There are several settings you can configure to get more accurate projections.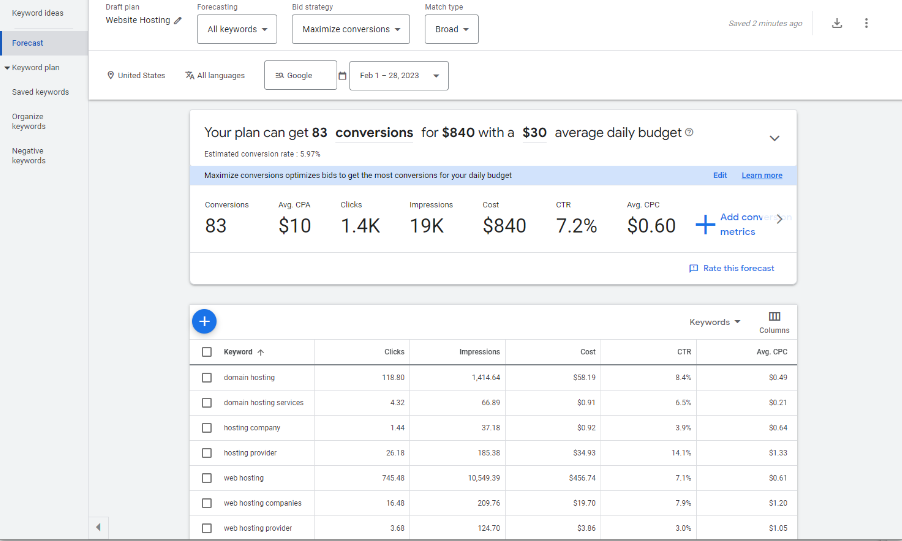 Location
The default location Google uses in projections is the entire United States. You can select more specific locations, like states, counties, or cities, by clicking on the current location near the top right. In this example, Schweb Design is looking to target specific counties surrounding Lancaster. After selecting your targets, save them. Your data is now filtered to only include users located in those areas.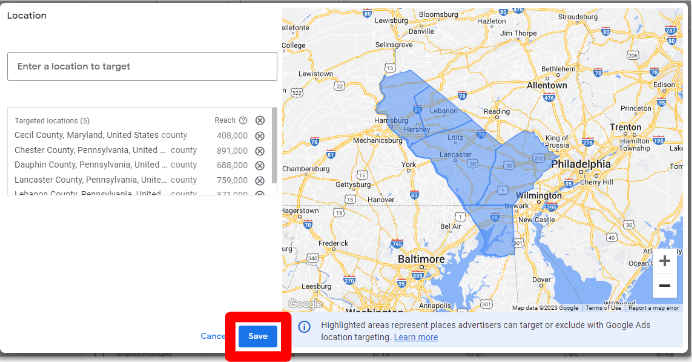 Date Range
You can project results throughout any date range. Forecasting results over several months can give you a better idea of performance through seasonality shifts. To adjust the date, click on the date near the top center of the screen, adjust the date, and save. Now your data will be forecasted across that time. In this example, we applied our projections from February to April.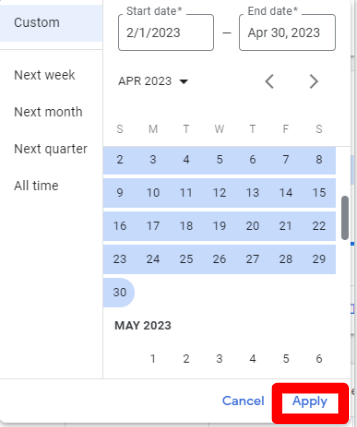 Bidding Strategy
Adjusting your bidding strategy will change your projection as Google predicts the outcome of that bidding strategy. We recommend selecting either "Maximize conversions" or "Maximize clicks." To adjust the strategy, click the current bidding strategy near the top of the screen, select your new strategy, and click save.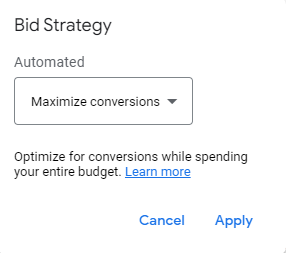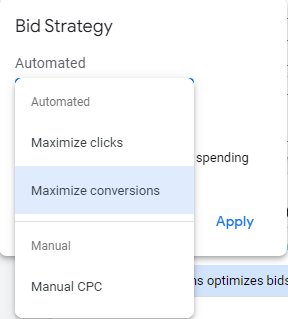 Match Type
Adjusting your match type will change your projection as Google predicts how many searches will qualify for that match type. We recommend selecting "Broad" which will qualify for the most amount of search queries. To select your match type, click the current type near the top of the screen, select your new match type, and save.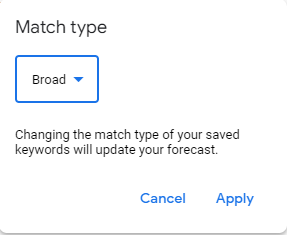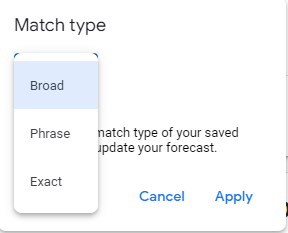 Conversion Metrics
Google will predict the average conversion rate from similar websites, but you enter your own conversion rate. If you have Google Analytics, you can use it to find your own conversion rate. Adjust this by clicking "Add conversion metrics," entering your conversion rate, and saving. You can also provide an average conversion value to forecast your ROI.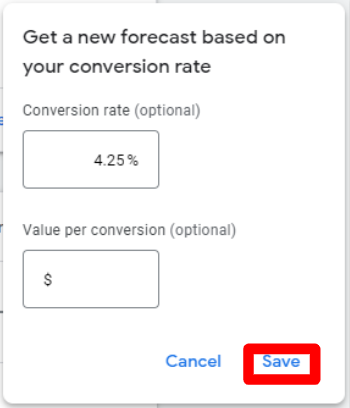 Primary Measurement Metric
You can change your primary measurement metric between conversions and clicks, whichever suits your needs. Whichever you choose, the other metric is always available at the bottom of the forecast. To change this, click on "conversions" or "clicks" and toggle to the other option.

Daily Budget
Lastly, you can adjust your daily budget. By clicking on the dollar amount, you can adjust the budget. Doing so also expands a graph which demonstrates the diminishing returns of online advertising. You can use this graph to determine the optimal budget along this curve. Keep in mind, the total spend, total clicks, and total conversions are all calculated across the entire date range. If you are looking for monthly figures, divide these totals by the number of months you've forecasted.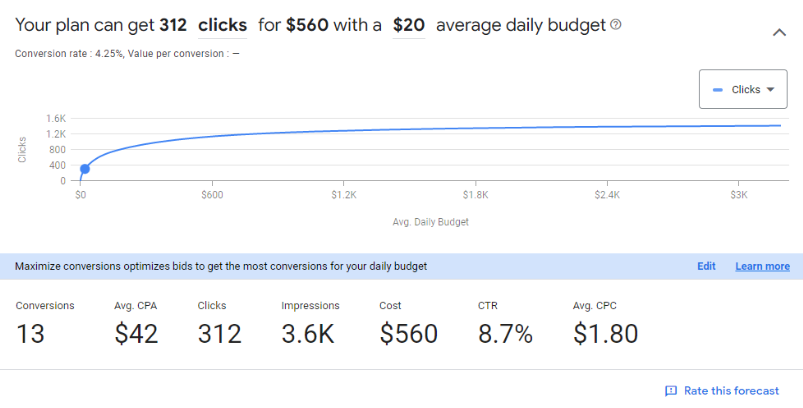 After Forecasting
After you create all of your projections, you are able to revisit past plans at any time and re-run the reports. If you like the numbers you're seeing, you can easily create a new ad campaign using those keywords. You can also hire a digital marketing agency, like Schweb Design, to create and manage the ads instead, saving you precious time as a small business owner.