In October 2020 Google released Google Analytics 4, the long awaited follow up to Universal Analytics. For those of you who are currently tracking their data with Universal Analytics the task of transitioning to Google Analytics 4 can be daunting. As we transitioned our clients to GA4 we picked up on some things that made the process go smoother, and allowed us to continue to access our data from Universal Analytics moving forward. We hope this guide helps you make the transition, and continue to expertly monitor your data to improve your business!
Should I Upgrade to Google Analytics 4?
Since its release in late October, GA4 has generated a lot of buzz, both positive and negative. Interface and verbiage changes have intimidated users, and the fear of lost data has discouraged many from taking the plunge. We are here to ease your mind, and walk you through how you can take advantage of some of the cool new features offered in GA4 while still keeping and maintaining your data from Universal Analytics.
Things to Consider
GA4 has some great new features that can increase the amount of useful data you have access to, but there are some things to consider before you take the plunge.
Limited E-Commerce Support
At its launch in October GA4 did not support Ecommerce in any capacity. In December Google unveiled workaround codes and processes to support minimal ecommerce statistics through GA4 and Google Tag Manager. Implementing these events will allow you to quantify your most popular products and see how they are affecting your sales. That being said, implementing these events requires a working knowledge of code, so you may need to reach out to a qualified web developer to smoothly implement.
How to Upgrade to Google Analytics 4
For the sake of this blog post we are assuming that you are already monitoring your site using Universal Analytics, if you need help getting your site set up with Google Analytics for the first time, check out Google's instructional guide.
When you upgrade to Google Analytics 4 you are not losing your Universal Analytics data, you are actually creating an entirely new property, so your existing Universal Analytics property and it's data will remain intact. We have outlined the steps to create a Google Analytics 4 Property below.
1. In your Universal Analytics property click admin.
2. Make sure you have the account and property selected that are currently collecting data using Universal Analytics. (If you only have one account it will already be selected.)
3. In the Property column click "GA4 Setup Assistant." Don't worry, this will not affect your Universal Analytics account in any way.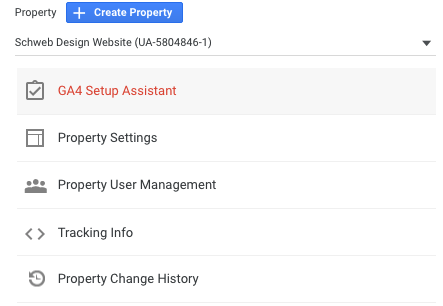 4. Depending on which tags your site uses, you will either have the option to enable data collection using your existing pages, or add the tag yourself. We recommend consulting a web developer to help with tag installation.
5. Click "Create Property." Analytics will now create your new GA4 property, copying over basic data from your Universal Analytics property. Once this process is finished you will see the message, "You have successfully connected your properties." Note, it may take up to 30 minutes for data to begin populating your GA4 property.
6. As we stated in step 4, if you are using a website builder like Squarespace or Wix, or if your website is tagged with analytics.js, the GA4 setup assistant could not use the tagging you had set up in your Universal Analytics property. In order to see data in your new GA4 property you will need to manually add the Analytics tag yourself using Google Tag Manager, adding it to your website CMS, or adding the code directly to web pages you would like to track. If you are not comfortable doing this on your own check the instructional blog we wrote here, or contact us and one of our skilled developers will walk you through the process.
Integrating Your GA4 and Universal Analytics Properties with Data Studio
Now that you have set up your new GA4 property, it is time to integrate your Analytics properties with Google Data Studio. GA4 currently does not support year over year data, so to maintain data integrity it is important to continue running both Universal Analytics and GA4 through Data Studio. Follow the steps below to integrate both properties to ensure you maintain access to all of your data!