Whether you have been in business for two years or twenty, it's important to make sure it's contributing to your goals. In fact, there is a good chance that the longer you have been in the industry, the more outdated your marketing efforts could be.
With over a third of users reporting they utilize digital marketing end products such as paid ads, simply because they do the best job of providing them with what they are looking for, you can't afford not to participate online.
If you are a small business managing efforts in-house or using a savvy tech agency to handle your digital presence, it's important to ensure that you are backing the right strategy. Is your primary goal related to increasing sales? Spreading brand recognition? User engagement? No matter what your goals are, there is an appropriate marketing strategy to meet – and exceed – them. Let's take a look at the process of determining the right marketing for you.

Evaluating Your Needs, Wants, and Nice-to-Haves
We tend to have specific standards and checklists when it comes to the neighborhood in which we live, the cars we will drive, or the jobs we pursue. In marketing, it works much the same way.
Knowing where you need help and knowing where your most successful business already comes from are key when it comes to weighing which digital options will serve you best. Even if you already have a digital service provider, going through the following questions each year should help you determine whether your current digital routine could use a tune up. A good rule of thumb, according to marketing whiz Neil Patel, is to ask yourself what your target deliverable, goal and end result are.

Before Making the Call
Take a look at some of the perspectives that will be invaluable while determining what type of marketing your business needs.
Duration and Visibility
How long have you been in business? A well-established brand or product will require a different approach than one that is just starting out, or beginning to expand to the next level.
Time Investment
Do you plan to be involved in your digital strategy? You should think about how much time you have now, and how much time you anticipate having in the future to devote to producing or reviewing content and campaigns. Depending upon the agency, you can typically find services that range from you being intimately involved in each digital project to being completely determined by the experts. If you're in a time bind but know you need a digital presence, that should inform a different type of approach than a business owner with a lot of time on his or her hands.
Content Availability
Is there access to a regular source of digital content? If your business is well-established, you may have a plethora of images, videos, deliverables and documents for a digital strategist to incorporate into your future marketing efforts. However, if you are a small establishment or beginning your venture into digital presence, you will want to ensure that your services address a lack of visual materials. This is also where logos, slogans, and image come into the forefront, which is also something a quality agency can assist you with to ensure the image is consistent across channels.
Consider the Competition
How strong is your presence for key services, products or events? Depending upon your industry and type of business, a digital campaign will be more or less difficult to make competitive (not to mention, more or less expensive). If you are going up against stiff competition in the digital landscape, you should be sure you have the money to invest on your end to cover niche markets in addition to the agency doing the work for you.
Weighing the Costs
Investing in marketing can be a daunting prospect for businesses that have slim margins, or that are just starting out. Having a budget dedicated for business growth is essential for driving revenue, and the right agency knows how to deliver great quality services on a budget. For many small businesses, starting small in the right areas can lead to major benefits in a relatively short period of time. Make sure that you don't settle for services that don't make sense for you; insist on the services you need and can afford, right now.
Setting Realistic Expectations
Be realistic. Even the most talented digital team or strategist has their limits in terms of what can be achieved with the available inputs. Most agencies are willing and happy to bundle services based on client needs. Realism is also important when it comes to timelines and performance expectations, as clients will often come to learn that their idea of "quick turnaround" is often much different than what can be expected from a well-run, high quality digital campaign.
If it Sounds Too Good to Be True
It probably is. Be aware of sketchy pitches, like "Get to the number one spot on Google, fast!" are a dime a dozen; and not legitimate. Authority in the digital space, just as in the real world, takes time and skill. Claims like this are often backed by hazy and vague explanation fueled by short-term, and short-sighted black-hat and rushed techniques. Google is hypervigilant about these methods, and will not hesitate to punish the attempt with poor rankings over time.
Now that you're familiar with some basic questions to run through prior to getting in touch with a marketing professional, you should also review the basics when it comes to SEO, PPC, Social Media Management, and Email Marketing services. Although it is possible that your digital strategy will include a combination of these, one may make more sense to start with than others. Also, keep in mind Lead Optimization to ensure marketing efforts are paying off.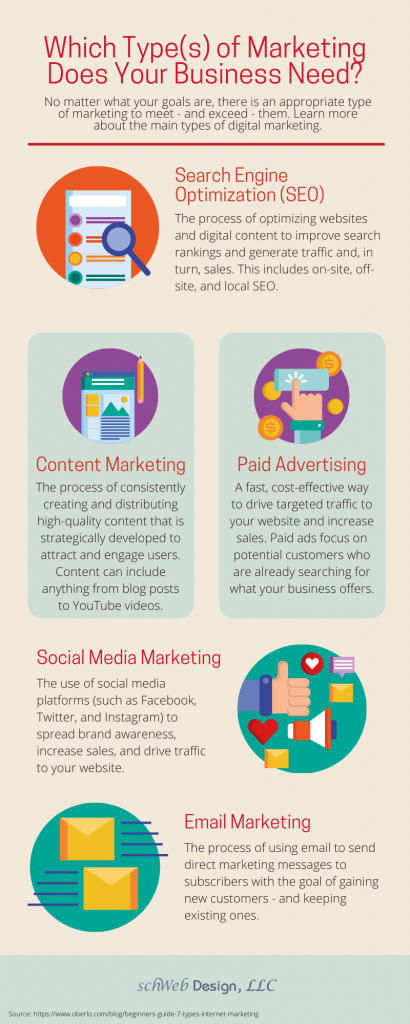 How Marketing Professionals Decide Strategy Based on Needs
Whether you want to increase awareness before a key event or sale, or are more interested in an ongoing effort to maintain growth; marketers can get you there. By taking an all-inclusive look at your business, your vision, and your goals, marketers determine which tactics are the most effective for your needs. The following are simplified examples of the first line of defense that a marketer would recommend to handle specific issues.
Great Site, Not Enough Visitors
Gaining visibility in the Search Engine Results Pages, or SERPs, so that sites can be found by users is primarily the job of SEO. Producing valuable content, adjusting technical aspects on-site, and watching the competition are just a small portion of what search engine optimization does to increase visitors to sites.
Plenty of Visitors, Not Enough Sales
A site that has tons of users flocking to it on a daily basis, but that can't seem to make sales, is in need of Conversion Rate Optimization. Conducting user experience studies and looking at user intent, while researching how users interact with the site – and their pain points – is how to start diagnosing this issue. Marketers would then research best practices to get users where they need to be on the site, and how to develop on-site solutions to remedy user confusion.
New Business, Good Brand, No Brand Recognition
After establishing a consistent brand, businesses that are just starting out may not have the brand recognition that they need for people to even start to search them on Google. To get a baseline visibility to users in general, Social Media Management is typically recommended. Often, business owners consider social media as either optional, or simple enough to do on their own. While social media accounts are indeed intuitive, they are far from simple.
Gaining and cultivating followers is a science, and keeping them engaged is a challenge that marketers have both the skills, and the time, to maintain. Writing consistent messaging, cross-linking hashtags and site content, as well as creating infographics and sharing to the right segmented audiences can become a complicated web of tasks. Marketers keep everything in line, and appraise you of their progress throughout without all the hassle.
Dedicated Users, Waning Engagement
For a site with a devoted audience and not a lot of time on their hands, or a very competitive industry, email marketing and remarketing are great resources to keep audiences engaged. Reminding them of who you are, and why they love you, while every so often offering a value proposition – like a sale – brings users back and wanting more.
Pivoting Strategies On the Fly
With an adaptive strategy and long-term goals, companies like Schweb Design are equipped to tackle fulfilling these needs while combatting competition and global marketing changes, like Google algorithm updates, and social media hiccups.
Semantics, AI, and predictive search are increasing in complexity and weight. Tracking key stats, which increasingly emphasize engagement rate basics like time spent on page, are critical in determining tactics. For example, now more than half of US households are predicted to own a smart speaker by the end of this year – and voice search has dramatically changed the face of Google and SEO campaigns.
An acronym you may not be familiar with, but is key to your success for organic ranking on Google? EAT. Referring to the company's key principle for websites, the term stands for expertise, authoritativeness, and trustworthiness. Think of this also, as a kind of Internet-based version of the English teacher from your high school or college years. If you don't provide quality evidence or cite your work, prepare to be penalized.
This means linking to higher quality backlinks and generating user personas to match content with the uses desired by your audience. Marketers were already doing this, but as an extreme change, they needed to completely revamp strategies to stay in line with Google's update.
Partnering With the Right Agency is Key

Don't worry if you're feelin a little overwhelmed; that's where our experts come in to save the day. Our team includes some of the best marketers around, specializing in elegant sites with your preferences and your customers' needs in mind. Our pioneering techniques and transparency keep our clientele at ease, because they know at the end of the day, we're on it!
At Schweb, we'd be delighted to take a look at your options, and what makes the most sense for you based on your answers to the questions posed at the beginning of this post. Once you're ready, get in touch! We're easy to contact whether you use email or prefer to pick up the phone and talk to a real person, in real time.