As businesses continue to increase their online presence with social media, Google My Business, Yelp, and Better Business Bureau profiles, dealing with negative reviews has become an important part of the digital marketing process. Having processes in place to help deal with these reviews can relieve the stress that goes along with them, and even transform a disgruntled customer into a brand loyal customer.
We put together some tips on how to deal with negative reviews, and use them to gain your business trust and loyalty.
Analyze the Review
A survey by Bright Local found that 72% of US consumers wrote a review for a local business in 2020. As the number of reviews written increases, so does the number of "comedians" who write reviews to get a laugh out of readers. When you receive a negative review, be sure to pay attention to the tone of the writing.
Is this customer actually very angry about their experience, or are they writing the review to be funny? Understanding the tone of the review will allow you to respond appropriately.
Research the Incident
If a legitimate negative situation prompted the review, get to the bottom of it by doing some research. If a specific employee is mentioned, speak with them about the incident. Gaining an understanding of what happened will allow you to give an informed response that addresses the issue at its core, and provides a solution.
Respond Quickly
Responding quickly to negative reviews shows consumers that your business is listening. A lack of response could be interpreted as a lack of caring, and will only amplify the negative review. Make sure to monitor your reviews across all platforms each day so you can stay on top of your responses. We find it helpful to set aside time each day so our social media and other web reviews don't fall by the wayside.
Be Respectful
Your business is your baby, and when someone speaks negatively about it, it's easy to let your emotions get the best of you. However, it is absolutely critical to be respectful in your replies. You may not agree with what your customer is saying, but responding in a respectful and helpful way can not only improve that customers' experience, but will show other customers that you are there to deal with any difficulties that may arise during the buying process.
Now that we have our processes down, let's take a look at some examples of different kinds of negative reviews across different platforms. We will include some specific tips for each platform, and how we came up with our responses.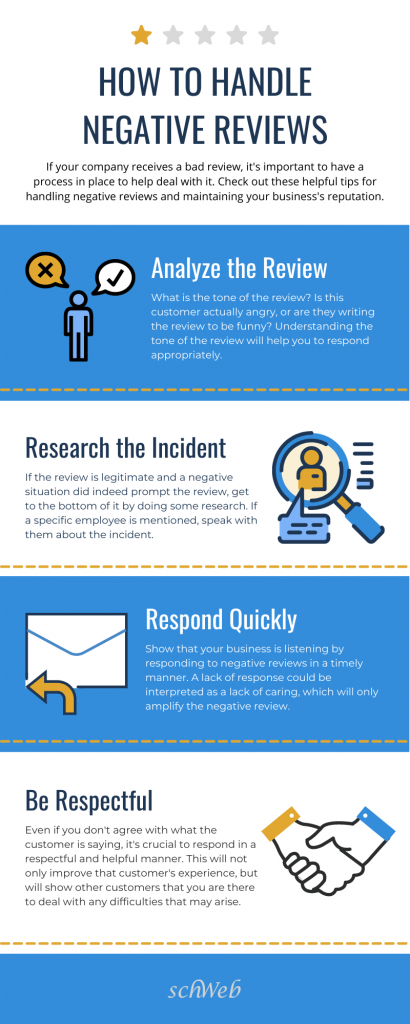 Dealing with Different Types of Negative Reviews
Let's take a look at some different types of mock reviews and go through how we approached our response.
The "Not related to your products" Review
"One of your delivery drivers was behind me this morning and they were tailgating me, and then illegally passed me on a back road. Is this how you teach your employees to drive?" – Jen
The Research
This review is unique because it doesn't necessarily involve your physical business location or products. To research this incident you could check with the drivers who were out that morning to see if they recall something similar to this. If someone confesses, have an honest conversation about safety, and how when they are driving your branded vehicle they are an extension of your company. Also, if no drivers were on the road that day, this review could have been fabricated which will affect how you respond.
Let's say that one of the employees confesses to the reckless driving and craft a response.
The Response
"Hey Jen, we are so sorry to hear about the experience you had with one of our drivers. We take safety very seriously, and each of our drivers passes a strict drivers safety course before they hit the road. We spoke with the driver in question this morning, and have decided to ride along with him for 3 days to ensure he drives safely. Please reach out if you have any other concerns, we would love to speak with you."
The "Dissatisfied Customer" Review
"I ate at your restaurant yesterday and the food was so spicy I couldn't even eat it. You should warn your customers that your food is so spicy, I left red faced and teary eyed." – Joe
The Research
This type of review can be tough, because they insulted the business's product. To look into this incident you could start by meeting with your cooks to make sure the recipe's are being upheld. In this case let's assume that there is a warning on the menu for certain items. The key step to focus on for this type of review is being respectful.
The Response
"Joe, thank you for the feedback. We are sorry that the spice level was too high for your meal. We try to make our food as authentic as possible, and many of our recipes are generations old, and we follow them to the T. If you decide to dine with us again, check out the pepper scale on our menu. 3 peppers is high spice, 2 peppers is moderate spice, and 1 pepper is mild spice. If you have any other questions or concerns feel free to contact us directly. Have a great day!"
In this response we addressed their concerns, provided an explanation, and a remedy for future dining experiences. Even if the customer is wrong, it's important to see the situation through their eyes and address their concerns.
The "Misunderstanding" Review
Sometimes customers will review your business even when the situation has nothing to do with your business. Maybe a faithful customer has one of your bumper stickers on their car and was driving recklessly. This type of review also applies to sites like Amazon or Etsy, who have a series of vendors and aren't actually involved in the product procurement and shipping for the majority of the orders through their site. People review Amazon rather than the vendor who handled and shipped the product.
Let's take a look at a mock review that targets Etsy.
"I ordered an office desk from your site and it came damaged. It looks terrible, what am I supposed to do with this? Don't buy from Etsy!" -Bill
The Research
The issue with these reviews is that they can be tough to research without corresponding with the disgruntled customer. If they have shipping policies they share with their vendors, they could reference this, and then acquire the customer's order number to do further inquiries.
The Response
"Bill, we are sorry to hear about your damaged desk. Each of our vendors is sent an in depth shipping policies packet when they sign on, but sometimes things happen in transit that are out of their control. If you provide us with your order number we will look into the issue on your behalf and work with the vendor to remedy the situation."
When replying to these reviews it is important not to throw your vendors under the bus, but also communicate that you weren't responsible for the issue. We don't directly say that we weren't involved in the review, but it is implied. Also, be sure not to make promises that your vendor may not be able or willing to honor.
How to Get False or Inappropriate Reviews Removed
In some cases, people may leave reviews that simply aren't true, or are inappropriate. This is the only situation that we recommend having the site where the review was left remove the review. Removing all negative reviews not only violates most of these websites' policies, but it removes credibility from your business. Most sites have guides on how to accomplish this or handle these reviews, we have listed these guides below.
Negative reviews aren't something to get excited about, but respectfully and informatively handling each review can boost your business's credibility and transform a disgruntled customer into a loyal one.