Over the years as you have interacted with different businesses you can probably call to memory different experiences you have had. Maybe you dealt with a pushy car salesman, or your meal took too long at a local restaurant. On the other hand, you can probably look back fondly on times that a business went above and beyond to make sure you were happy with your purchase.
The user experience influences what your customers think about your business, which can lead to brand loyalty and building a consistent customer base. Let's take a deeper look at user experience, how to measure it, and how to use that data to develop a journey map and better serve your customers.
What Exactly is User Experience?
The term User Experience refers to the thoughts, feelings, and overall expectations of people who interact with websites. It encompasses everything from first impressions to final decisions of users from the beginning to the end of their time on a site.
User Experience will often reveal common pros, and common cons, of sites and allow marketers to apply improvements through on-site SEO and CRO techniques. To make sure users are finding the content, layout, and options on the site to be relevant and reliable, User Experience is critical to keep people moving through the sales funnel.
How to Measure User Experience
Creating a User Journey Map
A User Journey Map is a visual overview of how your customers interact with your website, products, or business across multiple touchpoints. Creating an in-depth user journey map for your business can help you identify user motivations, what is driving them, and places during the buying process where they are turned off. In order to put together a user journey map you must first identify user touch points and pain points.
What Are User Touchpoints?
User Touchpoints are places where customers come in contact with your business before, during, and after the buying process. These touchpoints can include anything from a customer seeing an ad for your business, visiting your website, a stop at your physical location, and more. All of these touchpoints may seem excessive, but identifying them is very important as you create your User Journey Map.
What Are User Pain Points?
User pain points are specific problems that your prospective customers are running into as they navigate the buying process. While pain points can be diverse and difficult to identify, there are four categories that we find helpful as we begin to pick out pain points for our clients.
Financial Pain Points: Your prospects are spending too much money on their current provider/solution/products and want to reduce their spend
Productivity Pain Points: Your prospects are wasting too much time using their current provider/solution/products or want to use their time more efficiently
Process Pain Points: Your prospects want to improve internal processes, such as assigning leads to sales reps or nurturing lower-priority leads
Support Pain Points: Your prospects aren't receiving the support they need at critical stages of the customer journey or sales process
The four categories above are a great start in identifying problems you can solve for your potential customers, but most people are experiencing issues in more than one category. It is important to view all of your customers' problems as a whole, so you can advertise your company as a solution that can solve a variety of their problems with one purchase.
Gathering Your Data
The next step in creating your user journey map is collecting your data. Your Marketing company will take care of this on your behalf, make sure to ask them! By using traditional analytics tools, behavioral analytics tools, and good old fashioned customer surveys, they will gather meaningful data to help you put together your user journey map.
Creating User Personas
Many of you may already have user personas, or demographic, location, and habit driven characters you create based on your customers. If you haven't created these personas for your business now is a great time to start! Ask your Marketing agency to give this a look, and let you know more about your target audience.
Visualizing the User Experience
Now that you have gathered your data it's time to create a visual representation that will provide insights into where you need to improve your user experience. Some marketers prefer to put these together the old-fashioned way with post it notes or a physical whiteboard, but there are dozens of digital options out there that make it easy to share and make changes.
Here is an example of a user journey map that is a great place to start if you are new to this experience. This template provides you the opportunity to create a map for each persona, and maps out each step of the user journey with every touchpoint and pain point.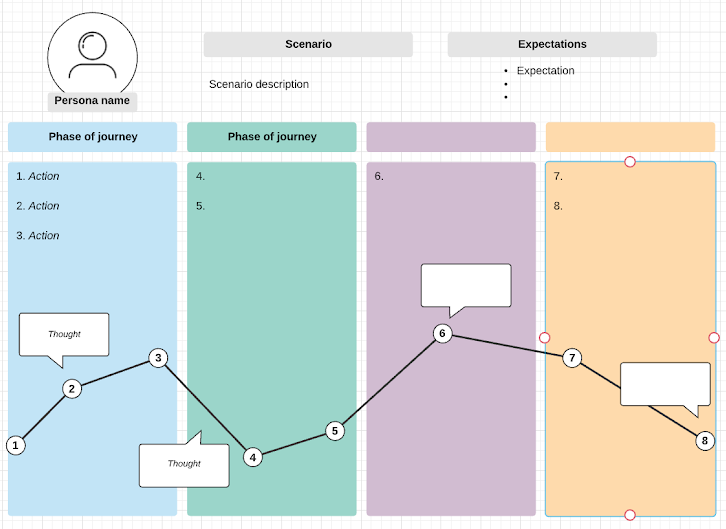 You can obviously get as intricate as you want, and add things as you learn more about your customer's journey. You can add more blocks to illustrate more phases in your customers' journey, more touch and pain points, and expand on your customers' expectations vs. the reality of the process.
This process will likely be different for every company, but this should get you started on your own journey of understanding your target audience! Keeping your users comfortable and engaged becomes much simpler once you exceed their expectations, and earn their trust.