Facebook, Instagram, and Twitter, oh my! With the growing number of social media platforms that exist today, it can be difficult to determine which ones your business should take advantage of. That's why we've put together this handy guide to help you figure out which social media platforms would be most beneficial for your business.
Keep in mind that not every social media platform is a good fit for every business, so it's important to learn about their differences and choose platforms that will matter most to your business.
Facebook
With 2.3 billion global active users as of 2020, Facebook is the biggest and most successful when it comes to social media platforms. Since its launch in 2004, Facebook has added countless features to its interface, with one of the most important being Facebook Ads.
Since it's one of the oldest social media platforms that's still widely used today, Facebook demographics are spread across all age groups. That said, the platform is well-suited for businesses in just about any industry. It's a powerful tool to help B2C businesses to interact with their target audience and get new customers. In recent years, Facebook has also introduced some powerful analytics tools to help business owners learn even more about their audiences.
Instagram
Owned by Facebook, Instagram is a social media platform that is centered around visuals like photos and videos. Instagram started out as a platform for sharing strictly photos, but it has evolved over the years and added many more features, like "stories" and "reels." Since it's a visual platform, Instagram is best for businesses that have strong visual content to share. For example, a manufacturing company may not benefit from Instagram as much as a clothing store would.
One important thing to note is that Instagram is almost exclusively mobile. While there is a desktop site, you cannot create posts on desktop or take photos.
Instagram is highly popular with the younger generation – typically people ranging from about 18 to 30. If that's your target audience, then this social media platform is a must. Additionally, Instagram statistics show that women are more active on the platform than men.
LinkedIn
LinkedIn is a social media platform that is specifically used for professional networking and brand awareness, meaning it's great for B2B businesses and recruiting new talent. Most users on LinkedIn share industry-specific content or information about company culture. That said, if you're looking for customers or sales, you can probably skip out on creating a LinkedIn account for your business.
Some say that LinkedIn caters to an older audience, as the largest age group is 46-55. However, millennials and people who are entering the workforce (out of college, for example) make up a significant portion of users on the platform.
Twitter
Twitter is a popular social media site that's simple and easy to use. Twitter is unique in that it limits all posts, or "tweets," to 280 characters or less, so it's great for short, time-sensitive updates. This platform can be an asset for B2C businesses with a strong brand voice. However, in order to be most successful, you'll need to make multiple tweets per day, so it can be a bit time consuming.
Demographically speaking, Twitter's audience is primarily young adults, ranging in age from 18 to 29. If this is your target audience and you have the time to devote to making posts and interacting with followers, starting a Twitter account is definitely something to consider.
Pinterest
Like Instagram, Pinterest is centered around visuals. This platform is very popular among people seeking recipes, DIY projects, and fashion inspiration. Users can "pin" content to digital bulletin boards, which are often organized by category. Lifestyle brands, clothing companies, and businesses in the food and dining industry can have great success on this platform. In general, Pinterest users tend to be more engaged than users on other social media platforms.
Pinterest is popular among people of all ages. 35% of users are 35 to 49 years old, and 34% are 18 to 29 years old. While females make up 71% of all Pinterest users, the platform is becoming increasingly popular among men as well.
TikTok
While still relatively new, TikTok has become one of the most popular social media platforms today, with over 2.6 billion global downloads. The platform allows users to post short videos on a repetitive loop with the option to add effects like music, text, and AR filters. Whether or not your business would benefit from TikTok depends on your industry, as well as the nature of your brand. If you're not sure if TikTok is a good fit for your business, try checking out your competitors or similar brands to see what they are doing on the app.
It's important to note that the majority of TikTok users are under the age of 30, with the largest demographic being Generation Z. However, this alone shouldn't cause a business to discount the platform. As time goes on, TikTok is starting to see users that are older.
Google My Business
As more and more people rely on Google to answer their questions, the search engine is becoming a major part of how users discover products and services in their area. Google My Business is a free, powerful tool that allows businesses to manage their online presence across Google, no matter the industry. It's something that all business owners should take advantage of, as it puts your business and its information in front of many potential customers. It also gives businesses the chance to appear in Google's Local Pack.
For more information on setting up a Google My Business listing, check out our guide.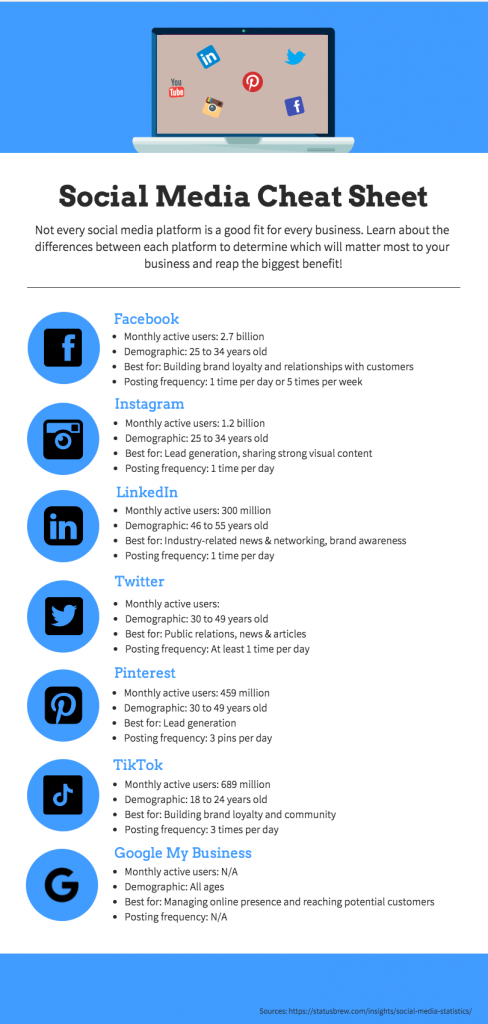 Trust Schweb Design to Handle Your Social Media Needs
Social media is an incredibly powerful tool to promote your brand, but sometimes, business owners simply don't have the time to devote to it. If you're struggling with social media, let us help! Schweb's social media marketing services can help you understand the importance of social media and show you the most effective tactics for your business.
To learn more about our social media marketing services or to schedule a free consultation, call or email us today!