Universal Analytics is dead! Long live Google Analytics 4!
As of July 1st, 2023, Google is no longer supporting Universal Analytics (UA), the former industry standard for website data analytics. Every website should now be running on the new standard, Google Analytics 4 (GA4). In this guide, we'll walk you through every report in Google Analytics version 4 so that you can successfully navigate your new account.
If your website is missing analytics tracking, contact Schweb Design to configure your GA4 account. Our digital marketing specialists will help you gain new insights into your website's performance. Now, onto the guide!
Steps to Navigating Google Analytics 4
Gaining Access/Logging In
Before we begin, you must have a personal Google Analytics account. Your website maintenance team should have sent you an invitation email like the one pictured here. Click the link in your email to create a personal account and join your website's Analytics property.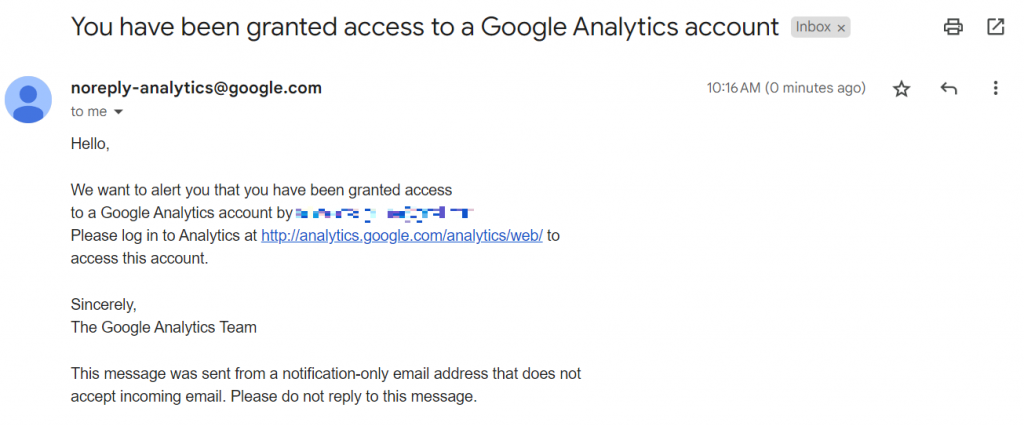 Once you accept the invitation, you'll receive a prompt to set up your communication preferences. You can toggle these options on and off by clicking the checkboxes. When you're ready to begin, click "Save".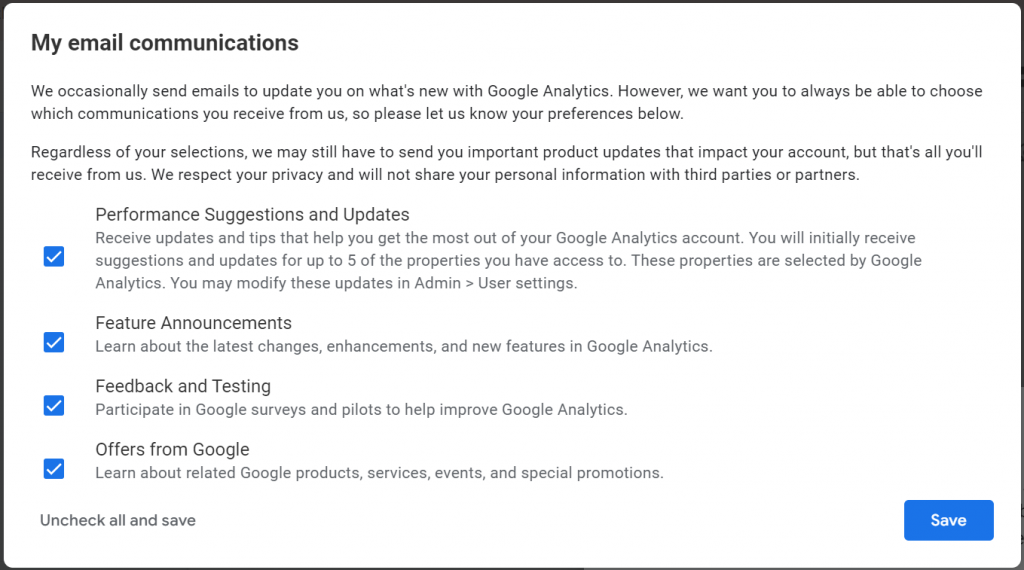 If you've already accepted the invitation, log into your account at analytics.google.com.
Homescreen
Every time you log into Google Analytics, you arrive on the homescreen. This homepage will give you a general snapshot of how your website is doing, without going into too much detail. As marketers, we're more interested in detailed reports. These can be found by hovering over the icons to the left of your screen and clicking on one of the options. Let's take a look at these three internal pages.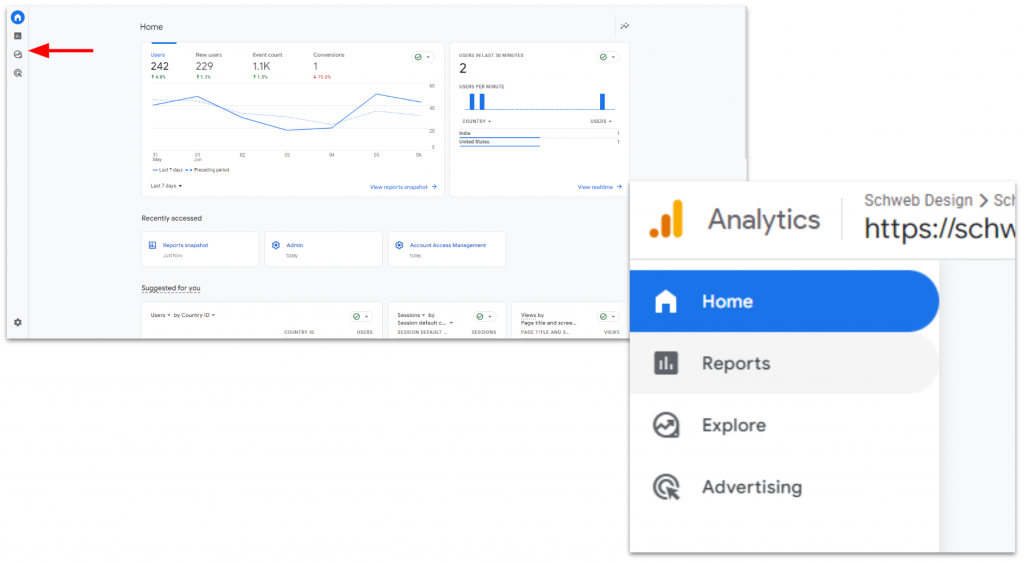 Note: For all three of these internal pages, you are able to adjust your date range in the top right of your screen. Keep in mind data only goes back to the day your web developer installed Google Analytics on your website. Also in the top right corner, you are able to customize each page to your preferences using the pencil icon. Customizing reports is a bit too advanced for this guide. These are the descriptions of the default report layout.
Reports
Reports Snapshot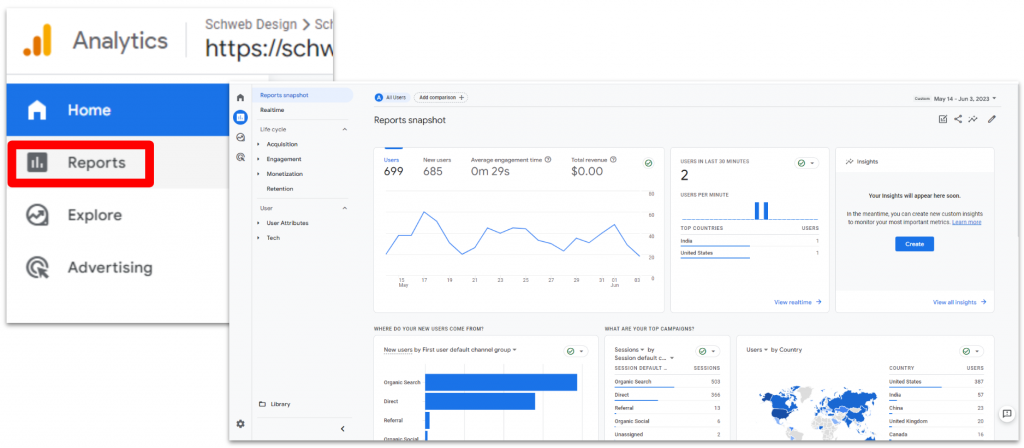 The "Reports snapshot" provides some of the most commonly requested information. You can see how many users visited your website, what channels they are using, where they're located, what your top pages are, and what events were completed on your website.
Realtime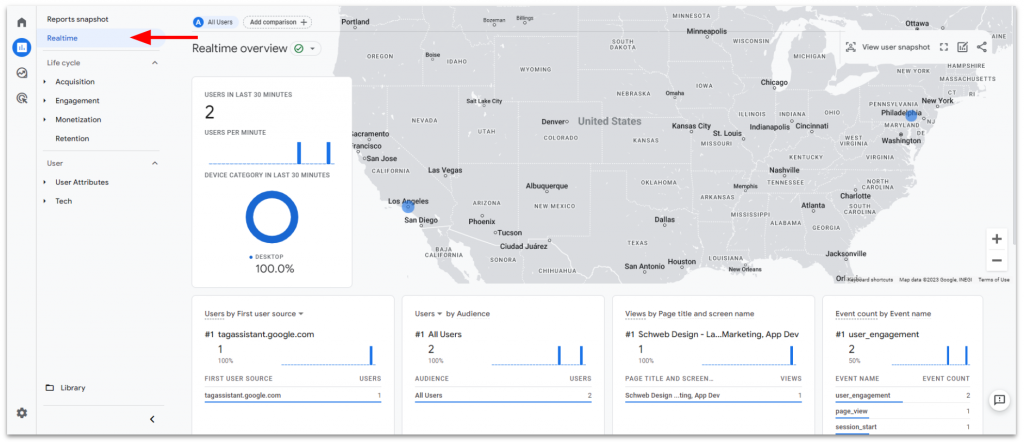 The "Realtime" report is where you can view the activity of users over the last 30 minutes. This report doesn't offer you much help unless you are live testing your website, which your website team is more likely to handle on their own.
Acquisition Overview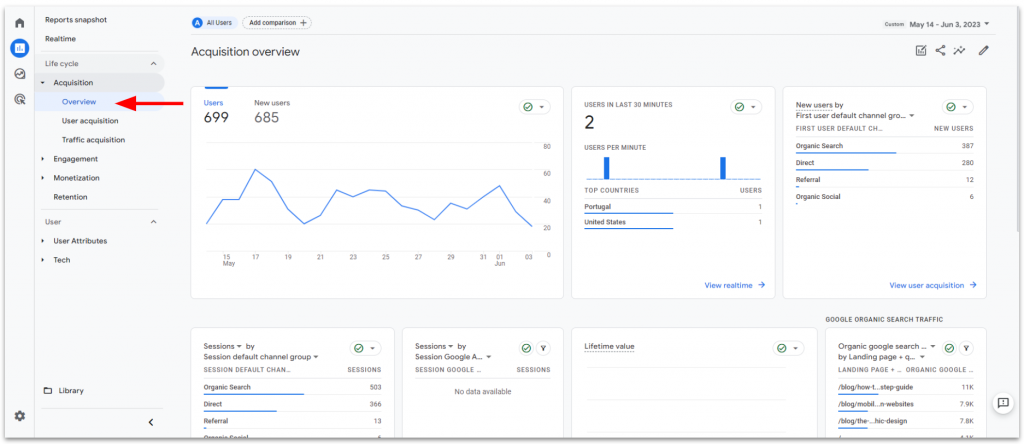 Under the "Acquisition" tab, there are several reports. Looking at the "Overview" first, this report showcases what sources your users are coming from, and what content they are seeing first.
User Acquisition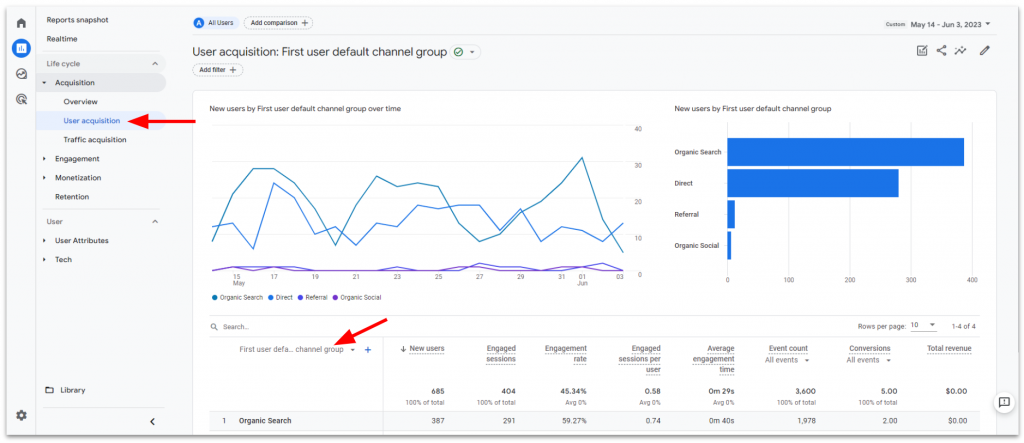 The "User acquisition" report shows what sources are providing the most new users and provides more detailed information about them, such as the engagement rate and conversions, in the table below. You can adjust the primary dimension in this report by clicking on the heading of the first column in that table. Some example dimensions are the user's source or the Google Ads campaign they entered from.
Traffic Acquisition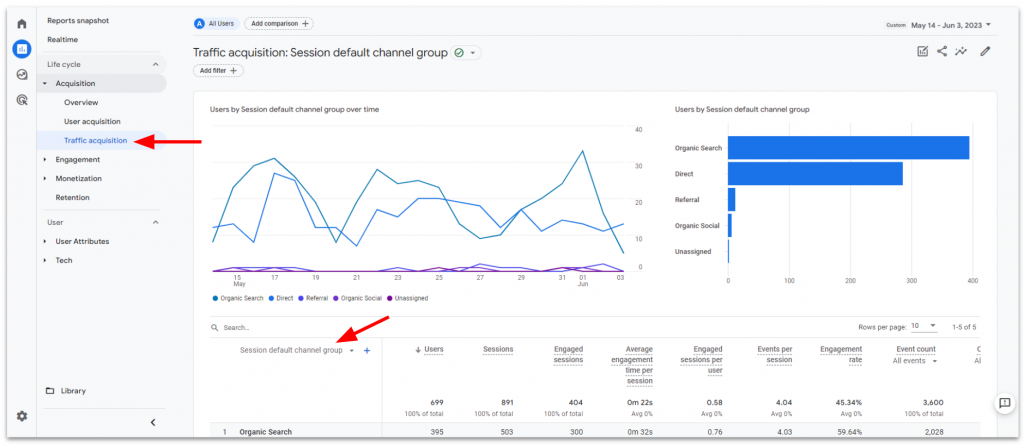 The "Traffic acquisition" report looks very similar to "User acquisition". The difference is that "Traffic acquisition" uses sessions as its primary metric. One user could visit the website multiple times, tracking as multiple sessions. As with the last report, you can adjust the primary dimension in this report.
Engagement Overview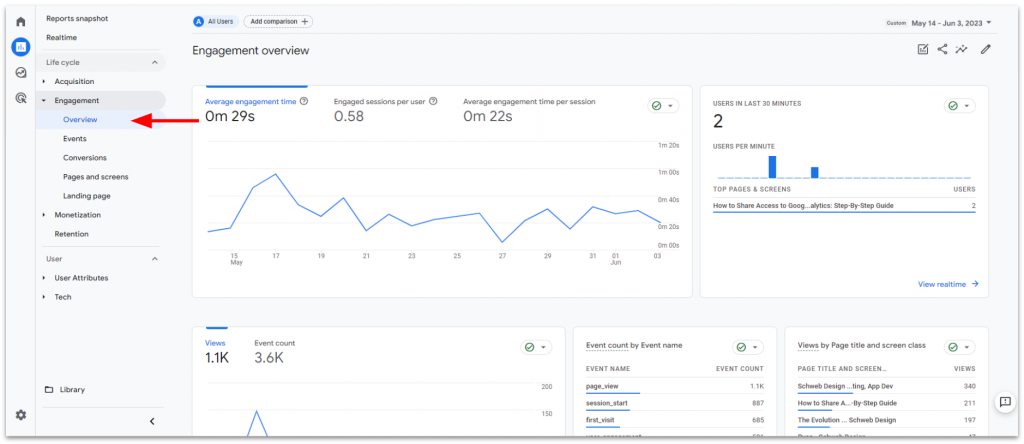 The next tab, "Engagement", also has several options. This is where you'll see how your users interacted with your website. In the "Overview" report, you'll see what digital marketers call engagement metrics. This includes things like your average time on site, events completed, most viewed pages, and user activity over time.
Events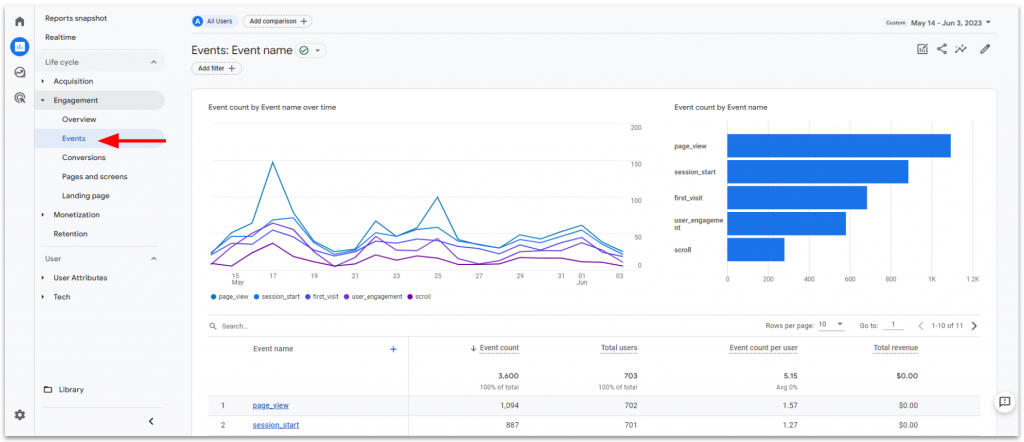 The "Events" report is where you'll see the actions users are taking on your website. If your web development team configured custom events, you'll see them in this report along with the default Google events, like page views.
Conversions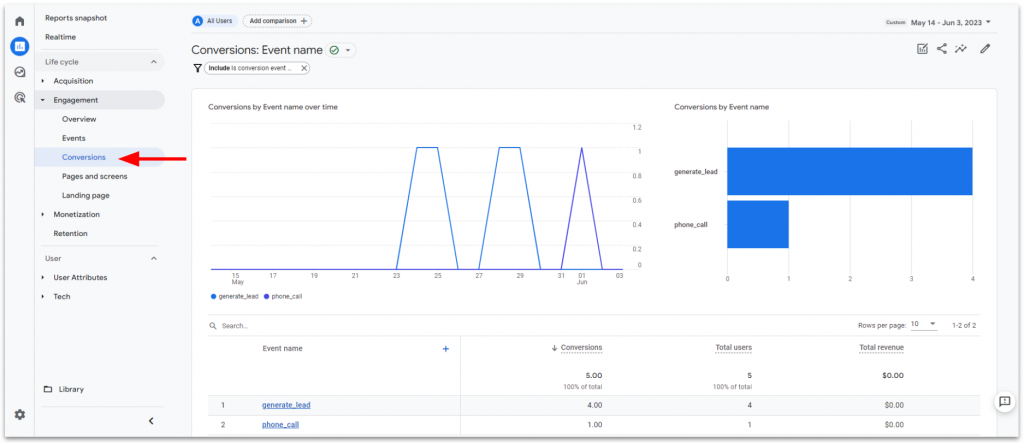 The "Conversions" report features only the events which are considered valuable actions. These events have to be configured as conversions by your web team before they start showing up here. Examples might include, filling out a lead form, making a phone call, making an eCommerce purchase or subscribing to a mailing list.
Pages and Screens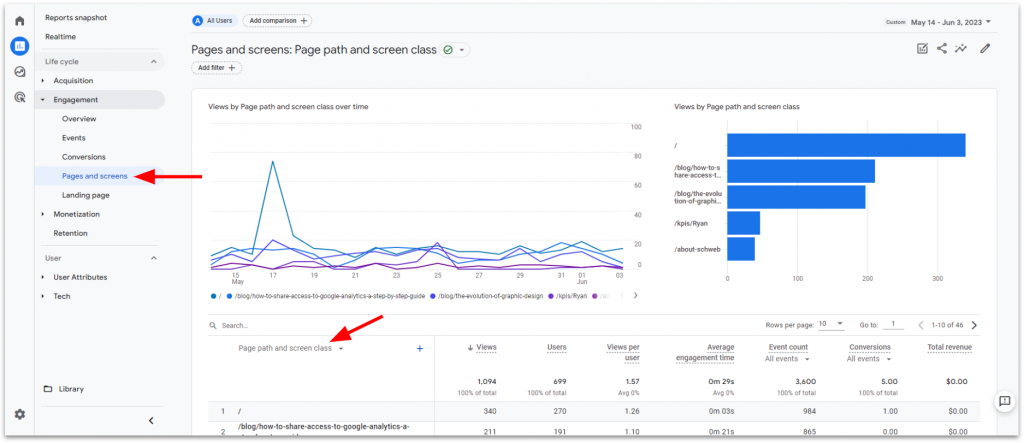 The "Pages and screens" report is where you'll find data on individual pages, like how many views each page has and how many users visited those pages. You can adjust the primary dimension in this report between the URL and page title.
Landing Page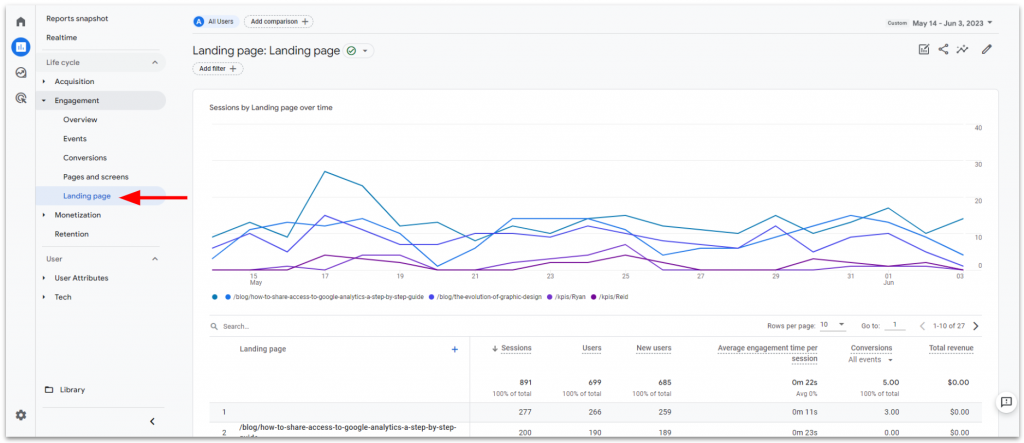 The "Landing page" report is similar to the last one but only looks at data from the first page users see when visiting your website, also known as the landing page.
Monetization Reports
The "Monetization" tab is where you will find all of your eCommerce information. This is a more advanced section of Google Analytics and deserves its own guide. Check with your website team for more information about eCommerce analytics.
Retention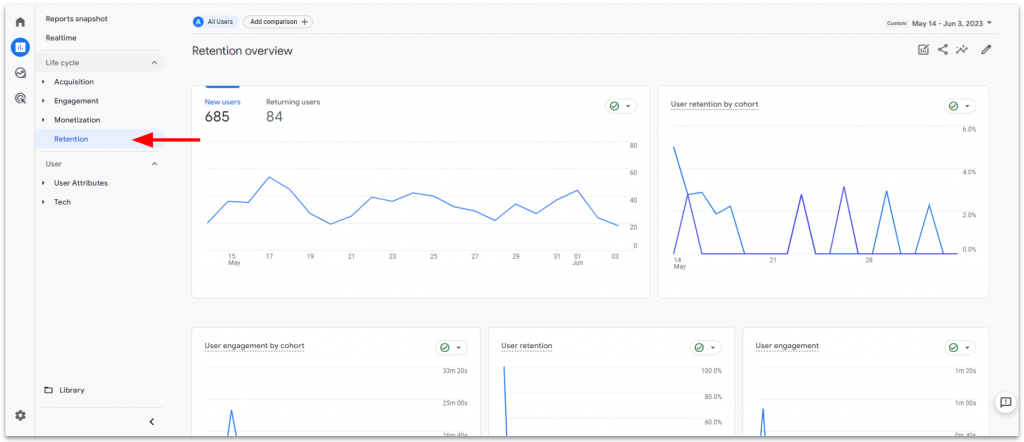 The "Retention" tab is just a single report, looking at how users return and re-engage with your website. You can see how many users return and how often they return to your website.
User Attributes Overview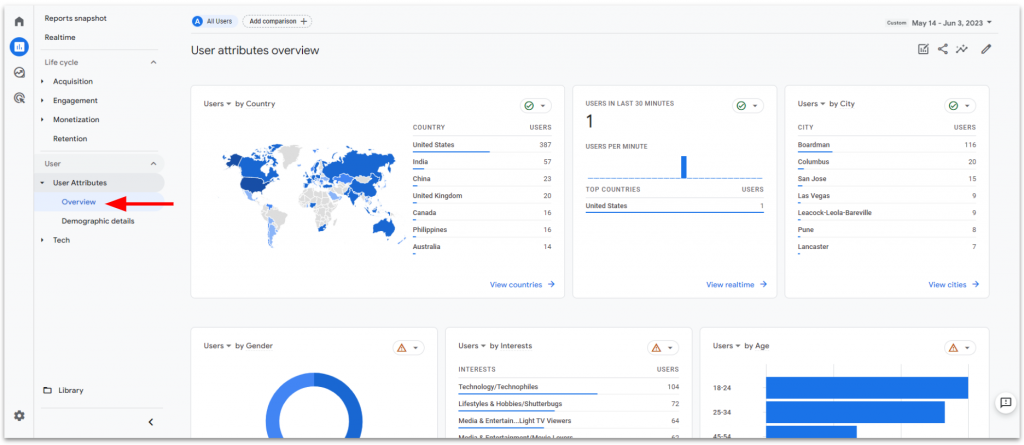 The "User Attributes" tab only has two reports. The "Overview" here shows some valuable demographic information. You're able to see your users' location data, genders, ages, and interests.
Demographic Details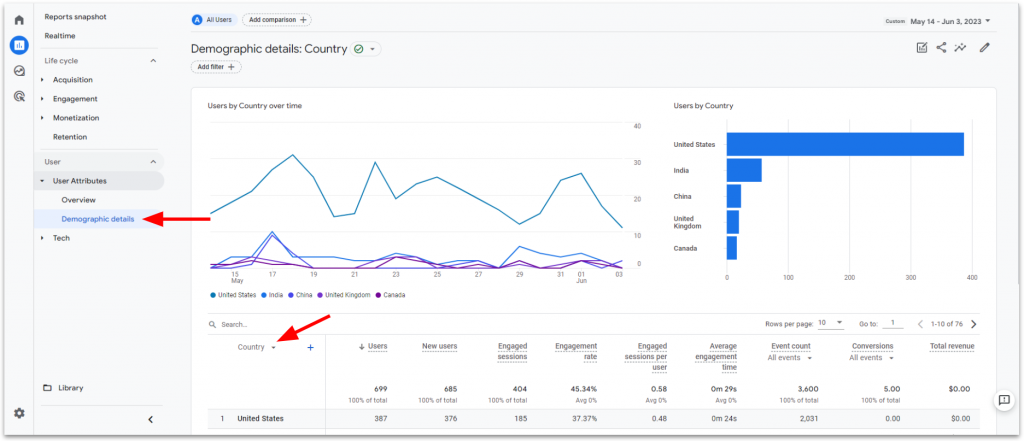 The "Demographic details" report drills down further to just one of those demographics. You can adjust the primary dimension in this report to the specific demographic you're interested in. Then you can see how many visitors are part of that group and their engagement with the website.
Tech Overview
The "Tech" tab also has two reports. The "Overview" for this will show you data about what devices your visitors use to browse your website. You can see what devices, browsers, and screen sizes are most popular, allowing you to optimize for specific devices.
Tech Details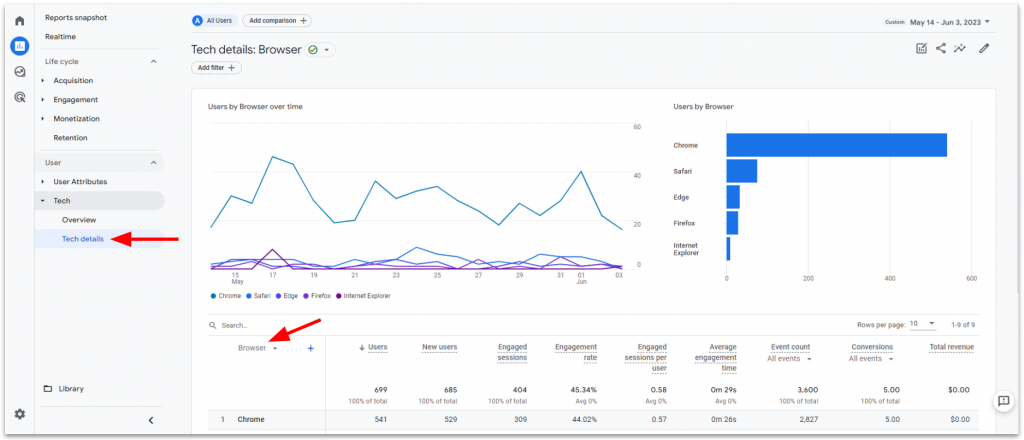 The "Tech details" report drills down further to just one of these technology dimensions, which you can also adjust like the "Demographic details" report. You're able to more clearly see how visitors on different devices interact with your website.
Explore
The "Explorations" page is where you can find all of your custom reports and explore data however you want. This requires advanced knowledge of Google Analytics to configure, so we recommend you approach your website maintenance or marketing team with ideas for custom reports. Here are some options to help you brainstorm ideas.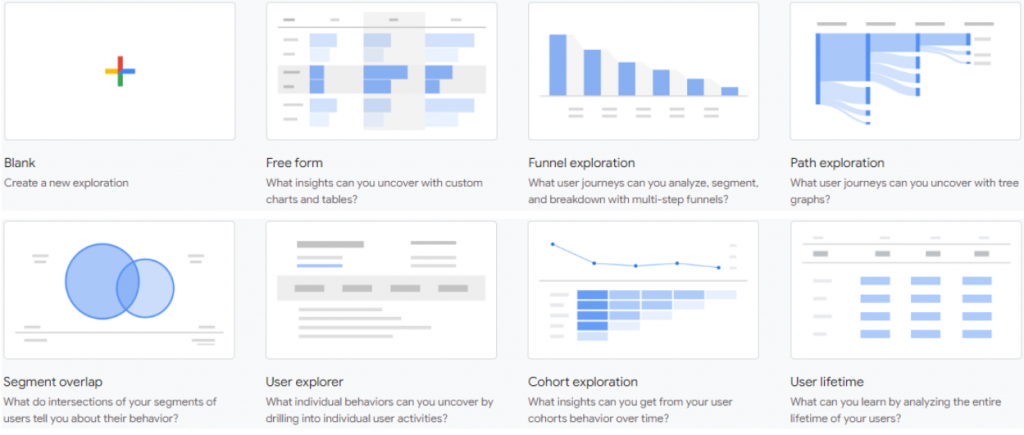 Free form – allows you the most freedom to explore your data and visualize it in a number of different graphs or charts.
Funnel exploration – helps you visualize how users navigate through your website with multi-step funnels.
Path exploration – does virtually the same thing but visualizes it in a different way, using what's called a tree graph.
Segment overlap – allows you to create venn diagrams of various types of users, using demographic and/or behavioral data.
User explorer – shows you data on individual users without personally identifying information.
Cohort exploration – groups users into cohorts and allows you to analyze these groups' activity on your website
User lifetime – shows you users' activity every time they revisit the website, giving you indicators of lifetime customer value.
Advertising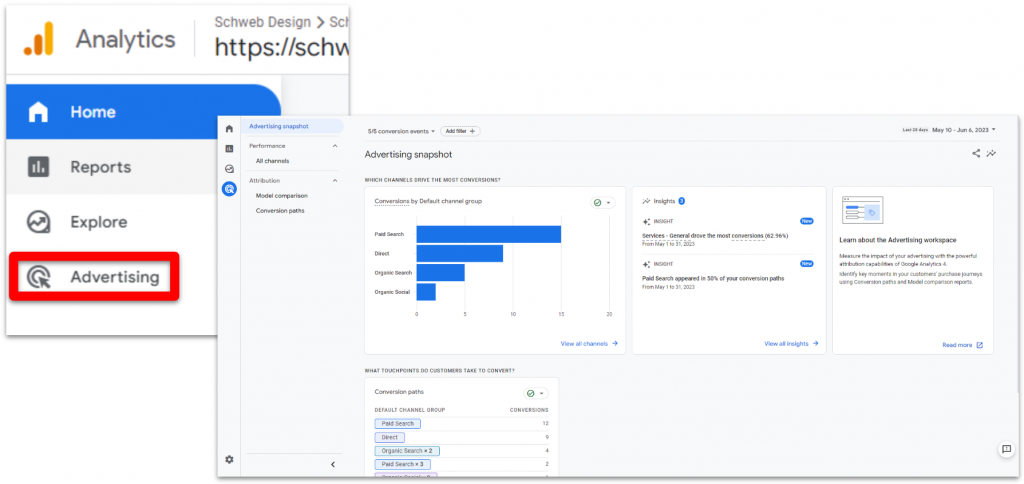 The last page with data on it is your advertising page. If you are running any digital ads, you can use this page to gain insights on how well your ads compare to other channels, such as social media or organic search. The "Advertising snapshot" report gives you an overview of this.
Performance – All Channels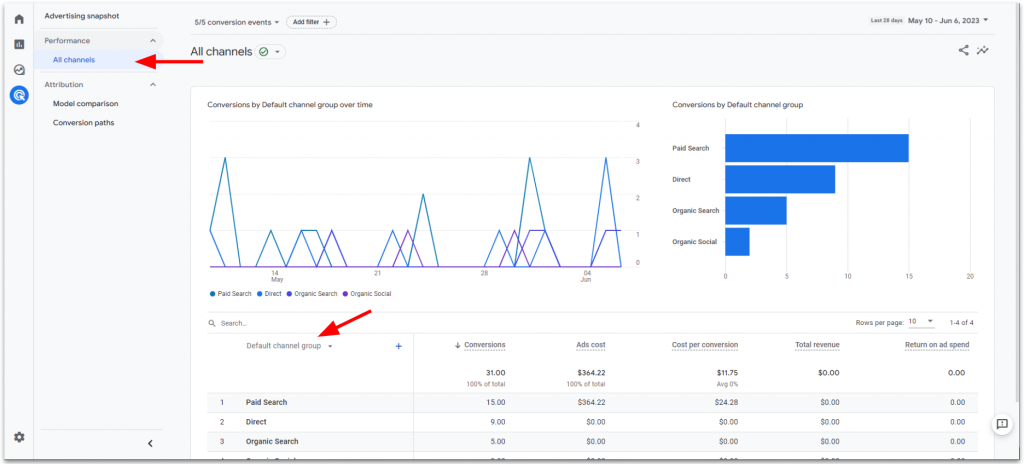 The "All channels" report shows all of the conversions that have happened on your site within your date range, broken down by the channel they are attributed to. The line graph shows which days each conversion occurred, so you might be able to see some trends here. You can also adjust the primary dimension in this report to look at campaigns or sources.
Attribution – Model Comparison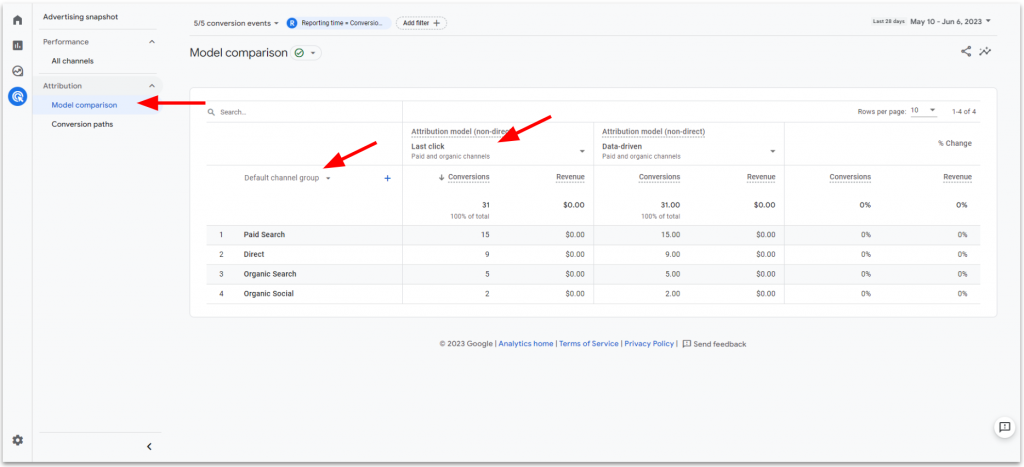 In digital marketing, attribution refers to how many different channels are attributed to the conversion of users, and to what degree. A customer could visit your website multiple times, through different channels, like an ad and Google search, before making a purchase.
The "Model comparison" report provides conversion data using different attribution models. You can adjust these by clicking on the column labels. These models attribute your conversions using different methods, such as the first or last visit to your website. Ask your digital marketer for a more thorough explanation if you're interested in learning more. You can also adjust the primary dimension in this report like with the last report.
Attribution – Conversion Paths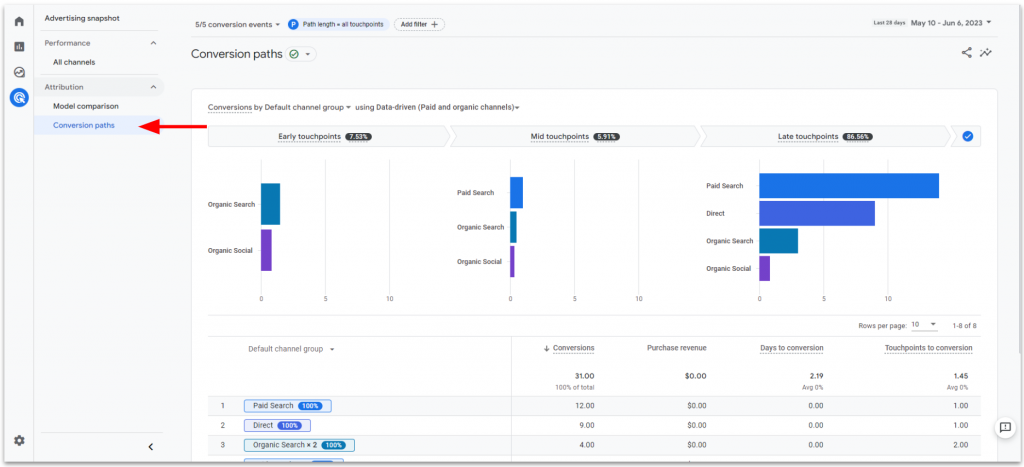 The "Conversion paths" report shows you how many times a customer visited your website before converting and the order in which channels they used. This gives you an idea of how many times someone visits your website before taking a valuable action.
Administration Settings

The final page you can navigate to in Google Analytics are the admin settings. You'll likely never need to visit this page, as your website maintenance team will likely configure this for you.
If you do ever find yourself in the administrative settings, there are a few areas you may want to explore. You can add new users to the account or property, edit your custom events & conversion settings, configure report audiences, and connect your other Google product accounts, like any Google Ads you run, the Merchant Center for eCommerce sites, and Google Search Console for additional organic search insights.
If you are looking for help configuring your Google Analytics 4, or are missing analytics tracking at all, consider partnering with Schweb Design for website maintenance and marketing. Our digital marketing experts will help you leverage your website data to grow your business. Contact us today.